WORK DISCIPLINE OF EMPLOYEES AT PT INDUSTRI KERETA API (PERSERO) MADIUN
Abstract
Work discipline is a person's awareness and willingness to comply with all applicable company regulations and social norms. One of the elements to developing excellence in human resources is work discipline. The company's work culture is designed to maximize employee performance, which will have an effect on the expansion of the company's performance.. The better the work discipline of employees, the company's goals will be achieved optimally. This study aims to determine the work discipline of Quality Control Department employees at PT Industri Kereta Api (Persero) Madiun which is focused on strategies to build work discipline according to Priansa (2019). Descriptive qualitative methodology is used in this research. The data sources used include primary data sources from observation and interviews, secondary data sources from documentation, and online sources. The data obtained was then presented systematically and then compared with Priansa's theory regarding strategies to build work discipline consisting of seven indicators. The result show that the Quality Control Department has implemented a strategy to build employee work discipline, namely by providing awards, training, counseling, and applying technology within the company. However, the Quality Control Department has not implemented a strategy to build work discipline, build an ergonomic workplace environment, avoid excessive demands on employees, and take vacations
References
Administrasi Bisnis Politeknik Negeri Madiun. 2021. Panduan Praktik Kerja Lapangan dan Tugas Akhir. Madiun: Jurusan Administrasi Bisnis Politeknik Negeri Madiun
Hasibuan, Malayu S.P. 2019. Manajemen Sumber Daya Manusia. Jakarta: Bumi Aksara
Priansa, Doni Juni. 2019. Pengembangan dan Pelatihan SDM Perusahaan. Bandung: Simbiosa Rekatama Media
PT Industri Kereta Api (Persero). 2021. PT Industri Kereta Api (Persero) [Internet]. [diunduh 2021 Mei 20]. Tersedia pada: https://inka.co.id.
Sugiyono, 2015. Metode Penelitian Pendidikan (Pendekatan Kuantitatif, Kualitatif, dan R&D). Bandung: Alfabeta.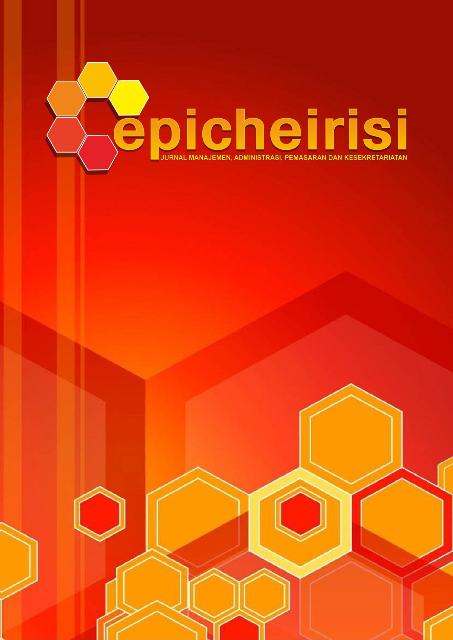 Downloads
How to Cite
Frima Thousani, H., Supriyanto, M., Hernando, H., & Ratna Azizah, F. (2023). WORK DISCIPLINE OF EMPLOYEES AT PT INDUSTRI KERETA API (PERSERO) MADIUN. Epicheirisi: Jurnal Manajemen, Administrasi, Pemasaran Dan Kesekretariatan, 6(2), 26–40. https://doi.org/10.32486/epicheirisi.v6i2.491
License
Copyright (c) 2022 Hifzhan Frima Thousani, Muhammad Supriyanto, Hendrick Hernando, Faugesty Ratna Azizah
This work is licensed under a Creative Commons Attribution 4.0 International License.