The Use of Cloud Storage as an Electronic Archive Storage in Digital Marketing Company
Keywords:
Electronic Archive Storage, Cloud storage, Cloud Computing, Digital Marketing
Abstract
The use of cloud storage is considered to be able to help companies, especially digital businesses, in integrating data, besides that from the user side, it will be more cost- and time-efficient, but there are also weaknesses in its implementation. This is a concern for researchers to conduct research and discuss further about the level of effectiveness of cloud storage utilization and whether in this company it is necessary to improve the quality of its electronic archive storage media. This research was conducted on employees one of digital marketing company in Jakarta as users of cloud storage media as electronic archive storage or as research respondents. The data collection techniques used are interviews and observations. After obtaining the data needed, researchers start processing data starting from the reduction process, display, to drawing conclusion, and verification. 
References
Abdillah, A. Z. (2015). Uji Usability
Manajemen Arsip Digital Menggunakan Cloud Computing di PT. XYZ . Doctoral Dissertation, Universitas Surabaya.
Astuti, E. D., & Lestariningsih, W. (2021).
Pengelolaan Arsip Digital Menggunakan DropBox, One Drive, dan Google Drive. Jurnal Abdimas PLJ, Vol. 1, No. 2, 20-25.
Bengi MS., N. I. (2021). Preservasi Arsip Digital
Sebagai Upaya Penyelamatan Informasi di Era Cloud Computing. Indonesian Journal of Academic Librarianship, Vol. 5, Issue 1, 35-41.
Euis, & Heryana, N. (2018). Analisis
Pemanfaatan Cloud Computing Berbasis Software as a Service sebagai Media Penyimpanan Tugas Praktikum. SYNTAX Jurnal Informatika Vol. 7 No. 1, 26-32.
Fadli, M. R. (2021). Memahami Desain Metode
Penelitian Kualitatif. Humanika, Kajian Ilmiah Mata Kuliah Umum, Vol.21, No.1, 33-54.
Fahrezi, A., Apriliani, N., Ajijah, N., & Juardi,D.
(2022). Keamanan Data dan Transaksi dalam Pemanfaatan Cloud sebagai Service. Jurnal Pendidikan dan Konseling, Vol. 4, No. 4., 5530-5536.
Heripracoyo, S. (2014). Analisa Studi Literatur
Manfaat Implementasi Komputasi Awan untuk Perusahaan. . ComTech: Computer, Mathematics and Engineering Applications, 5(1), 154-162.
Kurniawan, E. (2015). Penerapan Teknologi
Cloud Computing Di Universitas Studi Kasus: Fakultas Teknologi Informasi UKDW. . Jurnal Eksplorasi Karya Sistem Informasi dan Sains, 8(1).
Lenawati, M., & Mumtahana, H. A. (2018).
Penerapan Cloud storage Dalam Perkuliahan Fakultas Teknik Universitas PGRI Madiun. Journal of Computer, information system, & technology management, Vol. 1, No. 2, 55-58.
M., R. A., M., A. Y., & Arif, L. (2020).
Efektivitas Pengelolaan Arsip Elektronik di Indonesia. Jurnal Syntax Transformation, Vol.1 No.3, 47-51.
Marwi, H. C. (2021). Peranan Cloud Computing
Dalam Bisnis Perusahaan. TEMATIKA: Jurnal Penelitian Teknik Informatika Dan Sistem Informasi, 9(1), 27-34.
Rumetna, M. S. (2018). Pemanfaatan Cloud
Computing Pada Dunia Bisnia: Studi Literatur. Jurnal Teknologi Informasi dan Ilmu Komputer (JTIIK), Vol. 5, No. 3, 305-314.
Wulandari, S., & Ganggi, R. I. (2021).
Pengalaman pemanfaatan cloud storage mahasiswa Teknik Komputer Universitas Diponegoro (Undip) dalam pengelolaan arsip digital. Informatio: Journal of Library and Information Science Vol. 1(1), 49-66.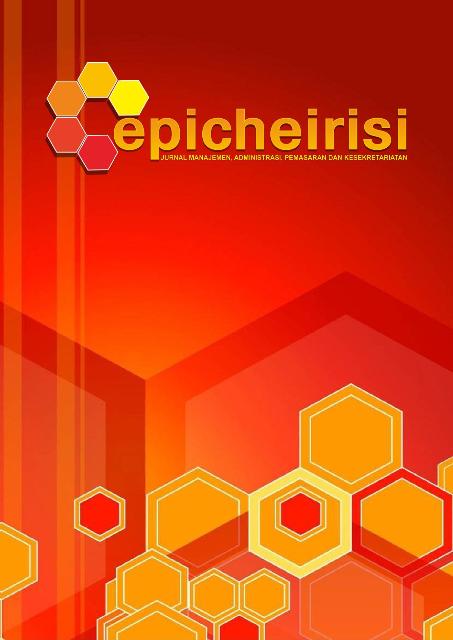 Downloads
How to Cite
Vellycia Atmaul Usna, Wolor, C. W., & Marsofiyati. (2023). The Use of Cloud Storage as an Electronic Archive Storage in Digital Marketing Company. Epicheirisi: Jurnal Manajemen, Administrasi, Pemasaran Dan Kesekretariatan, 7(1), 1–6. https://doi.org/10.32486/epicheirisi.v7i1.537
License
Copyright (c) 2023 Vellycia Atmaul Usna
This work is licensed under a Creative Commons Attribution 4.0 International License.